As the UX Architect on the Mobile App team of Ameriprise, I was in charge of designing many feature projects, such as the completely new iPad app (2017), complex financial electronic signature (2017), app navigation redesign (2016), account renewal interaction (2016), secured log in and biometrics (Face ID, Touch ID) (2016-17). During my tenure, unique visits to the app tripled; navigation & wayfinding have vastly improved. Below is a selection of some of my work for the app.

CREATIVE VISION
I redesigned the Ameriprise app to modernize the look and feel, to catch up to the FinTech industry: dark Amerprise-blue header, gray & white palettes, flat designs, bold accent colors, new data visualization. I worked closely with branding team to apply new brand colors & reinvent the standards. This is an on-going project that I kickstarted before I left for my next gig. A visual update towards this vision was released in June 2019. More on my vision for the app at JTrade.
Feature: ELECTRONIC SIGNATURES
Ameriprise stays ahead of the FinTech industry with Electronic Signature feature release in March 2018, that also includes delivering documents through the app.
It was a good challenge to transfer complex business and compliance rules into a clean, simple work flow. I built step-by-step interactive prototypes to show the concept.

Allocation shows users the percentage and performance of each category of their Ameriprise portfolio.
I implemented consistent colors & design elements to identify the investment categories across the app.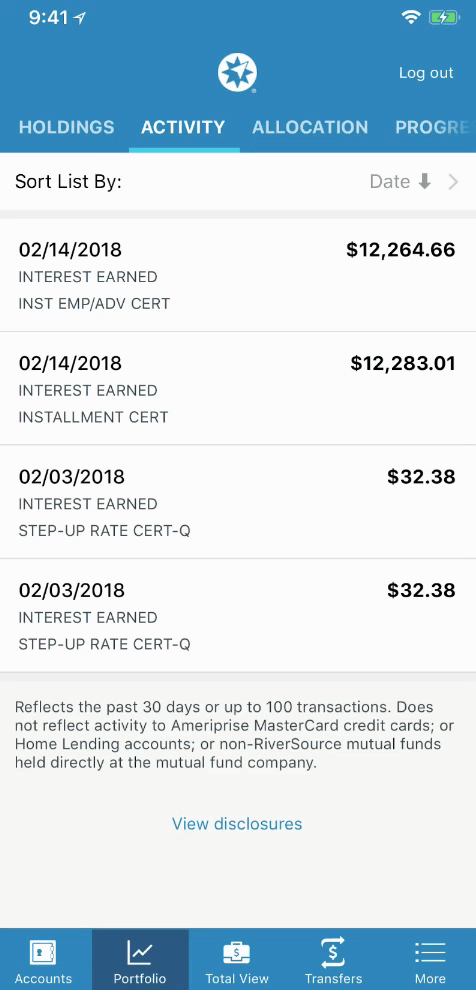 I applied Material design principles in: horizontal menu, sort panels, expandable list, cards, simplified data tables throughout the app.

As a result, analytics showed: navigation is much easier, & visits to lower level page increased.
USABILITY TESTS & analytics
Prototype built for Navigation click test
For this project, I served as a full spectrum UX generalist. I conducted multiple rounds of usability tests, including click tests, guerilla tests, building uLab research plans. I researched competitive analysis (with CorporateInsights), and provided strategy recommendation. I crafted analytic plans with the analytic team, in order to create and validate hypotheses (such as funding visual improvement, and eSignature).
MOOD BOARD
I created mood boards as a way to guide stakeholders into design directions. Here's an example mood board created for a feature on the iOS app:
results
Ameriprise Mobile App saw a 3 times increase in client visits in 2017, compared to 2016. The Opinion feedback and service calls largely reduced. Ameriprise mobile app competitive ranking improved sharply in CorporateInsights report, among full service FinTech corporations.
Product Owner: Katie Schumacher, Tori Johnson
BSA: Shapace Lewis
Lead Engineer: Ramu Kakarla
UX & Design: Jason Nguyen
UX Design / Design Creative Lead / Interaction Design / IA / Branding / Product Strategy / Content Strategy / Compliance Liaison / Native Mobile (Android+iOS) / Material Design / iOS HIG / WCAG